2006 Movie News Archives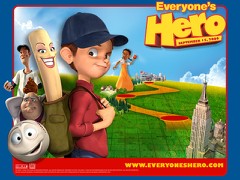 September 14, 2006: Christopher Reeve's Final Project - "Everyone's Hero"
"Everyone's Hero"
, Christopher Reeve's directing project at the time of his death in 2004, sees its wide-release across America tomorrow (September 15th).
Reeve is listed as Director of the film along with Colin Brady and Dan St. Piere. Reeve's late wife, Dana Reeve, provided the voice of character "Emily Irving" in the film and also acted as an Executive Producer before her own untimely death. Their son, Will Reeve, contributes the voice of "Big Kid" in the movie.
The Depression-era movie centers on a baseball-loving boy named Yankee Irving who, despite his best efforts, can't hit a ball. But much like Reeve's determination to overcome the spinal injury that left him a quadriplegic, the boy refuses to give up his dream of playing in the big leagues.
"Chris's focus was to make that movie in one way or another, and we pursued that no matter what," said producer Ron Tippe. "It meant a great deal to us to deliver his vision."

---
2006 Movie News
Listed below are all the Movie News items archived for 2006 organized into various categories:
"Superman Returns" Movie News:
Christopher Reeve Movie News:
Hollywoodland (George Reeves) Movie News:
Direct-to-DVD Animated Movie News:
Other Movie News:
---
Back to the
News Archive Contents
page.
Back to the Latest News page.