2010 Movie News Archives
September 18, 2010: "Superman: The Movie" To Be Shown on U.K. Dam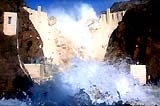 "Superman: The Movie" will be projected onto a dam in the United Kingdom as part of the
Branchage Jersey Film Festival
on Saturday, September 25, 2010 at 8:30 PM. The film will be shown on what would have been Christopher Reeve's 58th birthday.
The film will be shown at the Val de la Mar reservoir with the film projected on to the dam and sound broadcast to your car radio.
Here's some additional information from the BBC:
There are a limited number of tickets available for this event. You buy tickets per car and not per person and drivers will be given a special radio frequency to tune to when they arrive.

Given the setting the iconic scene in the film showing Superman's daring rescue of Lois Lane from the Hoover Dam as it's destroyed by his nemesis Lex Luther is one to watch out for.

Authentic drive in treats such like hot dogs, popcorn and marshmallow-topped hot chocolate will be on sale to keep the film fans toasty.

Chris Bell, press officer and programming assistant for Branchage Film Festival, said: "Superman is a really great, fun, exciting family film and for cinema-goers, this is a really unique opportunity.

"The scene of the Hoover Dam exploding is going to look spectacular on the real dam itself, and it's a really good value for money evening out that you can take your kids to or even your date!"
Read the BBC report
here
. For information on the Festival, check out their
site
. Thanks to super-fan Chris P. Bacon for the heads-up about this.
---
2010 Movie News
Listed below are all the Movie News items archived for 2010 organized into various categories:
New Movie News:
Direct-to-DVD Animated Movie News:
Christopher Reeve Movie News:
Other Movie News:
---
Back to the
News Archive Contents
page.
Back to the Latest News page.