2010 Movie News Archives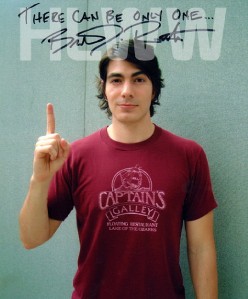 January 29, 2010: Routh and Slater Raise Funds for Haiti
Brandon Routh (
Superman Returns
) and Helen Slater (
Supergirl
) have both donated autographed photos of themselves to help raise funds for those affected by the earthquake in Haiti.
PEACE Fund, the charity created by Highlander actor Adrian Paul to Protect, Educate, and Aid Children Everywhere, is auctioning off the signed photos for the relief effort in Haiti.
These exclusive, one-of-a-kind photos of Brandon Routh and Helen Slater taken by British journalist John Mosby, feature the Highlander motto of "THERE CAN BE ONLY ONE."
You can bid on the Brandon Routh photo and/or the Helen Slater photo at Ebay.com.

---
2010 Movie News
Listed below are all the Movie News items archived for 2010 organized into various categories:
New Movie News:
Direct-to-DVD Animated Movie News:
Christopher Reeve Movie News:
Other Movie News:
---
Back to the
News Archive Contents
page.
Back to the Latest News page.